LE DOMAINE DE LA GRENATIÈRE – MEDITERANEAN
Your freehold holiday home and site 'Le Domaine de la Grenatière' a stone's throw from the Mediteranean
BUY YOUR OWN PLOT AND HOLIDAY HOME

AMIDST THE VINEYARDS
Have you always dreamt of having your own hideaway in the south of France? Of making the most of the waters of the Mediterranean, the sunshine, the wonderful natural light, stunning countryside – not to mention its glorious climate?
Located near the port of Marseillan, between Sète and Cap d'Agde, nestling in the grounds of a wine estate in a sun-drenched Mediterranean landscape with unbeatable views over the bassin de Thau lagoon, the development is 1.5km from Pomerols and its shops and 3.5km from the port of Marseillan. A cycling path runs alongside the lagoon, offering you access to the beaches at Marseillan, 6km distant.
Le Domaine au cœur d'un vignoble
Piste cyclable depuis le Domaine
Commerces de Pomerols à 3,7km
Marseillan à 4,3km
Port de Marseillan à 11km
Cap d'Agde à 15km
Bassin de Thau à 20km
Sète à 31km
A SPACIOUS SECOND HOME AT A PRICE THAT'S RIGHT
Pour le prix d'un studio, devenez propriétaire d'une parcelle de terrain de 290 à 480 m² et d'un chalet en pleine nature, tout en profitant des avantages d'une résidence de vacances de standing pour des vacances de rêve toute l'année.
CHOOSE A HOLIDAY HOME THAT'S JUST RIGHT FOR YOU
Together we'll work out which plot and holiday home are best tailored to your requirements. In order to cater to all tastes, we have a wide range of different options: the 'village' or the 'prestige' models, with either 2 or 3 bedrooms and a surface area of between 35 and 63 m². All have their own covered wooden terrace and are completely furnished and fully equipped with everything you need to move right in: it's everything you could possibly wish for!
Our partner, French builder CHALETS FABRE, based in the Aveyron département, has a range of holiday homes on offer that are automatically covered by a ten year building warranty for the 'PRESTIGE' range and a five year building warranty for the 'VILLAGE' range.
Don't delay – take a look at our show houses and register your interest in a home in a holiday resort and village that will delight all ages.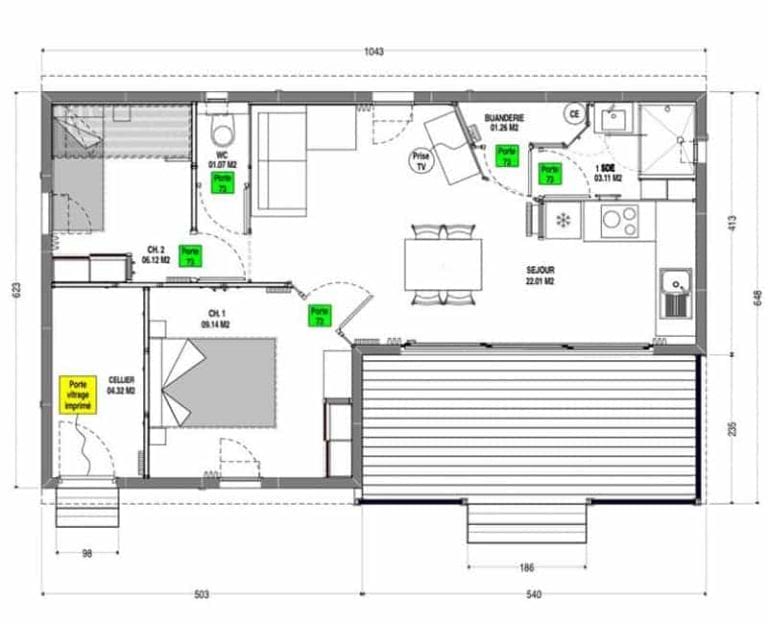 MAKE THE MOST OF THE TOP-END SERVICES AND AMENITIES OF 'LE DOMAINE DE LA GRENATIÈRE'
This residential development is open and benefits from on-site security staff all year round. Set in unspoilt countryside, it's ideal for relaxing short holidays or longer breaks. Why not make the most of the top-class services and amenities:
By car: Exit 34 on the A9 motorway is a 15 minute drive away, Toulouse is 200 km away, Clermont Ferrand, 330 km, Lyon 340 km, Marseille 200 km
By train: Paris-Montpellier: 3 hours 30 minutes
By airplane: the nearest airports are Béziers, 25 km away and Montpellier, 50 km distant
* Prix indicatif TTC, TVA 20% – Modèle Village – lot 44, 46 et 77
Would you like us to call you back? Please leave your phone number.