LE DOMAINE DU TENO – BRITTANY
Starting from: 149 000 €*
Your freehold holiday home and site 'Le Domaine du Teno' holiday resort and village by the south Breton coast
OWN A PLOT COMPLETE WITH CHALET
Achetez votre résidence de vacances en Bretagne
Located on the coast in the far south of Brittany, a stone's throw from the Gulf of Morbihan, between La Baule and Vannes, the development is set in a peaceful, lush setting.
A short distance away is the delightful small fortified town of La Roche Bernard, the walkway beneath the pont du Morbihan bridge, towering 40 metres above the Vilaine River and the dam and marina at Arzal.
The site of the development and its wider surroundings will delight sailing enthusiasts and nature-lovers alike.
A stone's throw from the Gulf of Morbihan
Proximity to marinas
La Roche Bernard à 8,6km
Passerelle piétonne (pont du Morbihan) à 40m au dessus de la Vilaine à 7,6 km
Barrage et port de plaisance de Arzal à 3,5km
La Baule à 36km
Vannes à 42km
Nantes à 74km
A SPACIOUS SECOND HOME AT A PRICE THAT'S RIGHT
Here, in this peaceful, lush setting near the marina and dam of Arzal-Camoël, a few very lucky people will have the chance to own their own holiday home complete with garden at a price that's much better value than buying a mobile home, with all the advantages and amenities of a 4 star campsite.
Le « Domaine de Teno » propose à la vente 71 parcelles en pleine-propriété foncière, avec des surfaces des terrains de 280 à 411 m².
Ensemble nous déterminons la parcelle et le cottage, qui seront le plus en adéquation avec vos attentes. Afin de répondre à toutes les envies, un large choix s'offre à vous : gamme village ou prestige, en version 2 ou 3 chambres pour une superficie allant de 49 à 65 m2 et terrasse en bois couverte. Les cottages sont livrés entièrement meublés et équipés prêts à vivre : la clé de vos envies !
Our partner, French builder Chalets Fabre, based in the Aveyron department, has a range of holiday homes on offer that are automatically covered by a 10 year building warranty for the "Prestige" line of cottages and a 5 year warranty for the "Village" line.
Don't delay! Take a look at our show houses and register your interest in a home at a holiday resort and village that is a delight to all ages.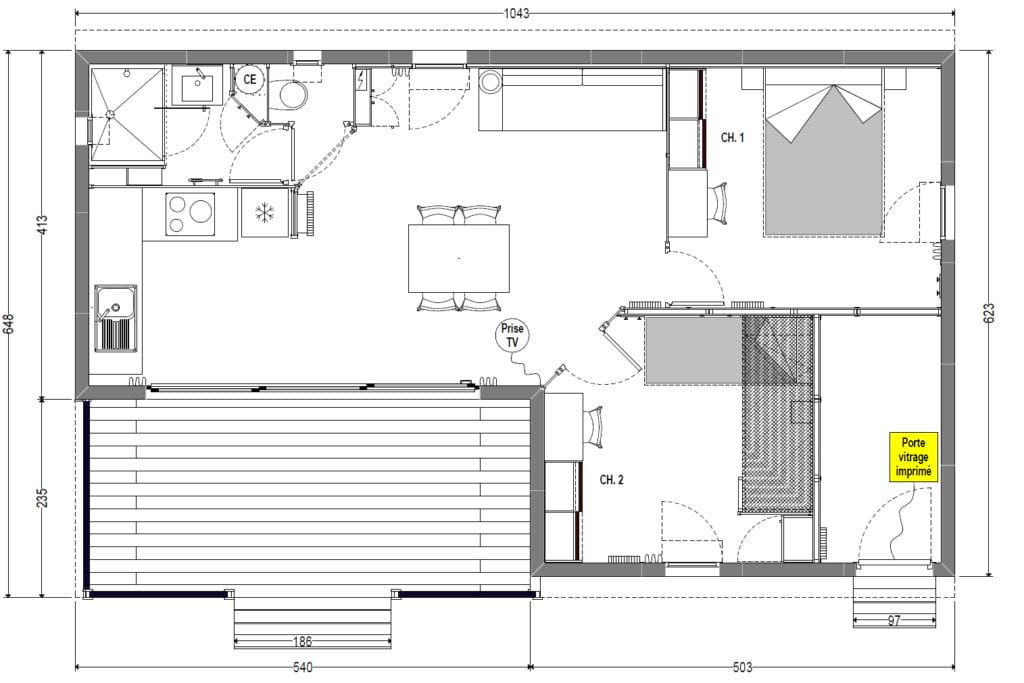 MAKE THE MOST OF THE TOP-END SERVICES AND AMENITIES OF 'LE DOMAINE DU TENO'
This residential development in an unspoilt setting is open and benefits from on-site security staff all year round. It includes the following amenities and services:
SEE THE LOCATION OF THE 'LE DOMAINE DU TÉNO'
By car:
N165 – Vannes 42km – La Baule 36km – Nantes 74km – Angers 154km – Tours 281km
By airplane: Airport "Nantes" – 77km
* Prix indicatif TTC, TVA 20% – Modèle Village – 49 m2 – Parcelle 52.
Would you like us to call you back? Please leave your phone number.
Trouvez votre financement avec notre partenaire privilégié