Nature & Résidence Village has been developing holiday resorts and villages with property available to buy on a freehold basis all over france since 2009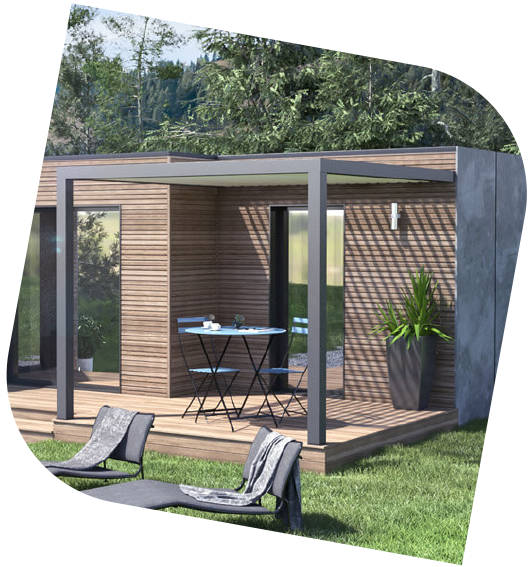 High quality Cottages and a preserved environment
On each project, we link up with effective, dependable local partners so as to be able to offer you great-looking, solidly-constructed holiday homes that are both well thought-out and which boast the levels of comfort the modern home-owner expects. 
We are supported by Premier Plan, a firm endowed with an urban and landscape planning department, which coordinates the various ecologists who carry out assessments of sensitive environmental issues (wetlands, protected species, etc.), beginning with the very first outlines of a project. An assessment is also performed to ensure each site's fit into its environment.
Our philosophy is simple: To offer high-quality properties at an affordable price tag which fit perfectly into their surroundings
Our holiday resorts and villages are real communities of small properties located in the countryside, delivered as turnkey solutions, ready to live in and complete with a range of services and on-site staff.
Our projects are manageable in size, offering privacy, yet at the same time encouraging the development of a sense of community amongst the owners and the inhabitants of the wider neighbourhood.
A STRONG GROUP, EXPERTS IN TOURISM AND PROPERTY DEVELOPMENT.
Nature & Résidence Village appartient à un groupe : Nature & Résidence Groupe , whose core businesses are campgrounds and property development.
Lorsque le groupe s'est lancé dans la promotion immobilière, la rencontre de ces deux activités a fait émerger la marque Nature & Résidence Village.
Boasting expertise in tourism and property development and small enough to offer that personal touch, our independently-owned group listened to what holiday-makers really wanted - unlike other firms… Vacationers wanted to know how they could have greater independence when away on holiday, compared to what they experienced on a typical campsite, but still benefit from a range of leisure services and also own their own property.
Nature & Résidence Village was founded to meet the needs of a large segment of families, as well as working and retired couples, by offering them an affordable, convenient and original option.
THE CHALETS FABRE – NATURA LOGGIES PARTNERSHIP
Chalets Fabre possesses 70 years of experience in the field of wooden frame construction.
Over the last 20 years they have built on this experience to expand into the field of light timber frame buildings for the leisure market.
The firm has successfully tailored its services to the demands and requirements of the modern world whilst still using traditional working methods and house designs: all its holiday homes are designed and manufactured in their workshops in the Aveyron département and then assembled on-site.

This long-established business is dedicated to building properties that will be equally long-lasting. Les chalets Fabre is committed to minimizing the environmental footprint of their properties, and at the same time, ensuring that the chalets are comfortable and comply with all health and safety norms. As a result, each chalet has to comply with strict environmental standards relating to their construction and sustainability. We have an exclusive partnership with these past masters in wood craftsmanship turned experts in chalet construction, meaning that they build all our light timber frame holiday homes. Advanced manufacturing techniques and the expertly-constructed nature of the timber frame buildings it produces enables the firm to offer a ten year guarantee on these lightweight holiday homes, similar to the typical ten year building warranty on standard houses. This long-standing partnership allows us to offer holiday homes that are guaranteed to be of high-quality, solidly constructed and genuinely built to last. These homes are available on all our developments. Every stage of the property development process is painstakingly tailored to our clients' needs and no effort has been spared to ensure the chalets blend perfectly into their surroundings.
THE ESPACE INDUSTRIE – NATURA COTTAGE PARTNERSHIP
OUR COMMITTMENTS AND OUR VALUES
Purchaser of a cottage at Nature & Résidence Village: support the Association Smiles from Elsewhere.
A travers ses projets, Nature & Résidence Village, est une entreprise soucieuse du respect de notre environnement, et a souhaité devenir également un acteur engagé dans le domaine de la solidarité en soutenant l'Association Sourires d'Ailleurs.
Sourires d'Ailleurs helps African villagers to have a better life using the resources at their disposal and without having to totally change their lifestyle. This small charity is doing really valuable work thanks to the human capital and skills it boasts: supplying medical and educational material directly to these villages and implementing other education-related initiatives.
After Senegal in 2011 and 2012, they headed for Madagascar in 2014. A second mission in this country finished in 2016. In the area around Antsirabe in Madagascar (the Vakinankaratra region), Sourires d'ailleurs is working to support a rural dispensary and train people in First Aid and has performed various humanitarian actions in the area, most notably the renovation of a school in a remote locality.
Now you can get involved too: Nature et Résidence will reduce the purchase price of its properties by 100€ on condition that a 100€ minimum donation is given to Sourires d'Ailleurs.
A last mission took place in Madagascar at the end of 2019.